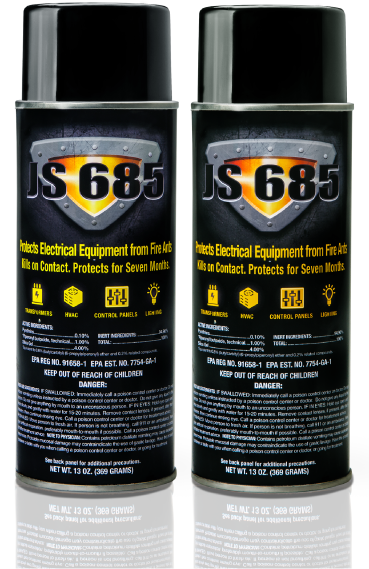 JS 685® 13oz Aerosol Spray Can
$49.95
Due to DOA regulations, this product is currently only shipped to addresses in the State of Texas.
DESCRIPTION:
An aerosol spray uniquely formulated to kill fire ants and other destructive insects on contact and create a protective shield against insect infestation in electrical equipment for seven months.
EASE OF USE:
Unlike tapes and powders that are difficult to apply, JS 685 is supplied in an easy-to-use aerosol can. It is applied as a liquid that dries quickly to form a 17,000 volt dielectric strength powder barrier.
EFFECTIVENESS:
The barrier keeps ants and other insects gone for 7 months, requiring only two applications each year.  Protects air conditioners, light housings, breakers boxes, and electrical controls. Keeps spiders and webs out of corners.
VALUE:
A can of JS 685 contains 800 feet of spray. Enough for hundreds of applications.